Peachfork Studios, offering professional recording, mixing, and mastering. The studio is set up to record to 2 inch analog tape or to our digital audio workstation, or both at the same time. The analog tape machine uses 2 inch tape, and is the same series tape recorder that was used to record the LP's:  Hotel California, Black on Black, and Margaritaville, to name just three.
The owner/producer, Bernie Nau, is a member of the Recording Academy and a voting member of the Grammy Foundation. The studio is located in Southeastern Ohio, and has a history of recording all types of music. Regardless of your budget, Peachfork provides you with a relaxed, creative environment.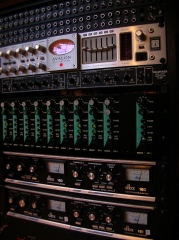 Listen
 to some music that was recorded at Peachfork Studios.
Peachfork News: Click on the links below to watch, listen and read about some of our new projects.
We just finished recording JD Hutchison's new record, You and the World Outside. http://www.jdhutchison.com/  It was awesome working with the band and with Tim O'Brien.  Tim produced the record and performed on several songs. http://timobrien.net/ Here is a shot video shot in the studio during a rehearsal: JD Hutchison Tim O'Brien recording at Peachfork Studios
Portland Oregon's Uprooted Music selects Woody Pines "You Gotta Roll" as one of their top album picks for 2012.  "You Gotta Roll" was recorded and mixed by Bernie Nau at Peachfork Studios. http://www.uprootedmusicrevue.com/2012/12/uprooted-music-revues-favorite-audio.html
We are happy to announce that we recently  finished the new Woody Pines record. "Rabbit Motel" was recorded in just 10 days at Peachfork Studios and was co produced by Bernie Nau. Please visit Woody's website for mor info…  woodypines.com
Please check out the new EGT album. We spent three months on this project. It was produced by our very own Bernie Nau. If you want to listen to the title cut from the record go to. http://www.elementalgroovetheory.com/
We recently completed the new Dune CD. Dune plays rock/metal in drop C tuning. Here is a link to 2 tracks by Dune, GRAVITY-DUNE-ROCK,METAL, DESOLATE-DUNE-ROCK,METAL.
Internationally known Woody Pines and his band recorded an EP at Peachfork Studios. This record has been getting a lot of radio play. RED ROCKIN CHAIR-COUNTRY BLUES-WOODY PINES.
Allan Carr recently recorded a CD of traditional song from northeastern Scotland. CAPTAIN WARD'S-FOLK- ALLAN CARR Originally from Scotland, Allan now makes his home in Philadelphia Pennsylvania.
Here are four  guitar instrumentals by the band, the D-Rays. This is an example of what can be done in just one day. (these tracks were recorded, mixed, and mastered in just 8 hours). Click here to listen>   STATE FAIR ,  THE FLY ,  CRETIN HOP , BUMMER SUMMER
This is the first mix of their opening track.  Click here to listen> LUNACY SACRA VIA
Here is the opening track on the new Coolville Hotclub CD.  C'MON MY HOUSE THE COOLVILLE HOTCLUB
Read a review of EGT's new album! Produced by Bernie Nau.
The metal band, Skeletonwitch is about to release 3 songs that were produced by Bernie Nau and Skeletonwitch at Peachfork Studios.
Just click on the links below to listen to our drum kit.
2 Kit with snare drum made by Trick drums
Kit with snare drum made by Trick
2 Kit with snare drum made by Trick drums